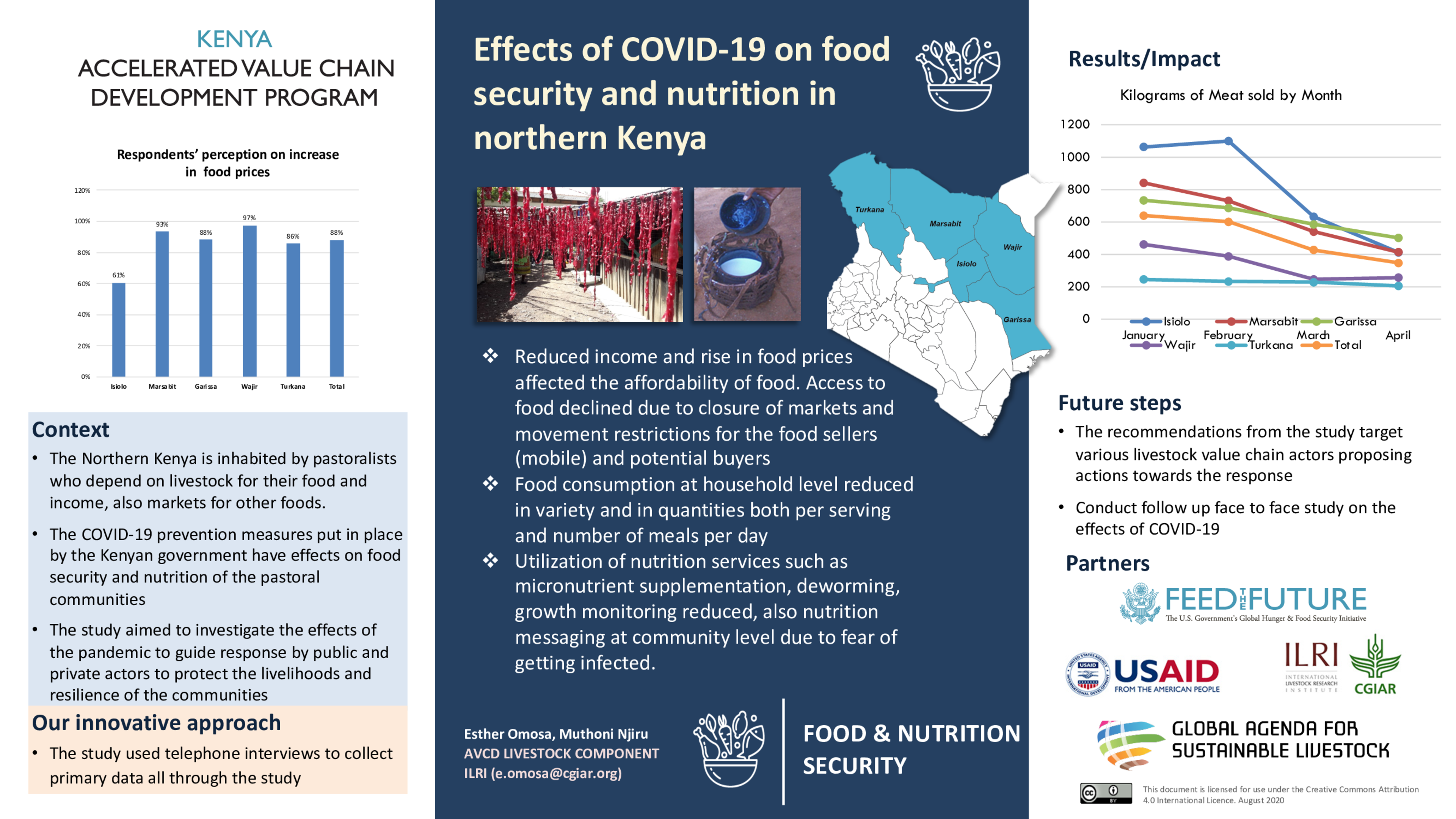 Description
Description
The Feed the Future Accelerated Value Chain Development Program (AVCD) livestock component, implemented by the International Livestock Institute (ILRI), initiated a study, whose purpose was to investigate how the COVID-19 pandemic has affected the livelihoods and food systems of actors along the livestock value chain, and how they have coped during this period. The findings of the study will provide AVCD program management, county governments, and other Partnership for Resilience and Economic Growth (PREG) partners with useful data to enable an evidence-based response to the situation at different levels. 
The administration of the study occurred between 29 May to 16 June 2020, and data collection was through a phone-based survey. Both quantitative and qualitative techniques were employed to allow data triangulation and to enrich the information of the subject under investigation.  Structured questionnaire to a sample of 2,010 actors along the livestock value chain, was administered with an overall response rate of 94%. The actors included producer households, agrovet owners, abattoir/slaughter slab/slaughterhouse, butcheries, livestock traders, livestock market associations, livestock transporters. Other actors included in the study were food kiosks/vendors/eateries, motorcycle transporters (boda-boda), cereals and pulses traders, fruits and vegetable traders, community health volunteers (CHVS) and community disease reporters (CDRs).
This poster illustrates the effects of COVID-19 on food security and nutrition in northern Kenya.
Comments
Which kinds of food is addressed here?
Was food consumption scores used to assess  the food security situation? 
By interviewing only those who had access to phones, don't you think the effect of COVID19 on food security for this ASALs people could be under estimated since those with phones are relatively better off and their feedback can be assumed to be less serious than that of the very poor in this ASALs population?
Add new comment